Shake Rattle and Roll VI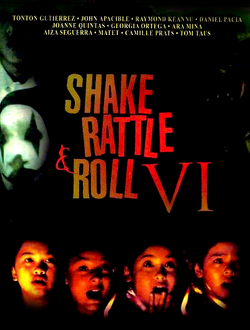 Title
Shake Rattle and Roll VI
Directed by
Maurice Carvajal
Frank Rivera
Anton Juan
Produced by
Lily Monteverde
Distributed by
Regal Films and MAQ Productions
Starring
Camille Prats
Aiza Seguerra
Tonton Guitterez
Release Date
January 1997
Shake, Rattle & Roll VI is the sixth installment of the Shake Rattle & Roll franchise. It was distributed by Regal Films. It is directed by Maurice Carvajal, Anton Juan & Frank Rivera. This film is not an entry of the Metro Manila Film Festival as other installments.
ANG TELEBISYONEdit
Her parents are fighting, a neglected child named Jennifer finds solace in watching her brand new TV. Mr. Boo the clown exited on the TV and invites Jennifer into his world. When Jennifer refuses to go Mr. Boo takes her and bring her to the TV.
ANG TULAYEdit
The ghost of Mauro was the only connection between three teenage girls.  The three girls must find a way to put the boy's soul to rest
ANG BUWANEdit
Manrey is a college student. Unfortunately, mysterious deaths began and suspicion flew through the air that the culprit was a girl named Luna who was transforming into a monster during a full moon. However, the girl falls in love with Manrey. At the end Manrey learns a lesson for loving a woman
Cast And Credits
Edit
"ANG TELEBISYON"
Cast:

Camille Pratts as Jennifer
Joanne Quintas as Mabel
Daniel Pasia as Mr Boo
John Apacible as Emil
Bobby Benitez as Sammy

Director: Maurice Carvajal
Writer: Tony Perez
"ANG TULAY"
Cast:

Aiza Seguerra as Lilian
Ara Mina as Sunny
Matet De Leon as Marice
Tom Taus as Mauro
Kiko Villamayor as Jun Jun
Melissa Mendez as Marice's mother

Director: Frank Rivera
Writer: Tony Perez
"ANG BUWAN"
Cast:

Tonton Gutierrez as Manrey
Georgia Ortega as Luna
Roy Alvarez as Ben
Raymond Keannu as Robert
Tanya Iwakawa as young Luna
Rustica Carpio as elder Luna

Director: Anton Juan
Writer: Tony Perez
This is the 3rd film to be include a child wonder.
This is the 1st film to be include an evil villain clown.
Mr. Boo is similar to Harley Quinn, Joker & The Riddler from Batman franchise with a twist of The Voilator from Spawn franchise .
This is the 1st time Manilyn Reynes didn't included on this film.
Community content is available under
CC-BY-SA
unless otherwise noted.