Shake Rattle and Roll IV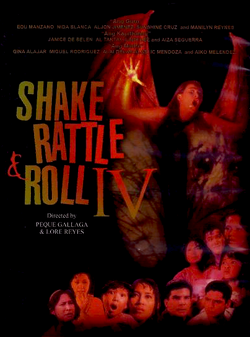 Title
Shake Rattle and Roll IV
Directed by
Peque Gallaga
Lore Reyes
Produced by
Lily Monteverde
Distributed by
Regal Films
Starring
Manilyn Reynes
Aiza Seguerra
Ai-Ai delas Alas
Release Date
December 25, 1992
Shake, Rattle & Roll 4 is a Filipino horror movie released in 1992 and the fourth installment of the Shake, Rattle & Roll is distributed by Regal Films. It is directed by Peque Gallaga and Lore Reyes. This film is also an entry to the 1992 Metro Manila Film Festival.
"ANG GURO"
Edit
Jodie (Manilyn Reynes) is a student of Mr. Zerrudo (Edu Manzano) who fell in love with him. Mabu (Aljon Jimenez) told Mr. Zerrudo that Gretch (Sunshine Cruz) is in love with him.
One night, Jodie is still on the computer room finishing her project with Mabu. Mabu said that Jodie is in love with Mr. Zerrudo but Jodie pranks him.
One day, Mr. Zerrudo told the students to finish their exams. Mr. Zerrudo goes to the laboratory room. He drinks a potion that turns him into a monster ala Dr. Jekyll-Mr. Hyde. Gretch goes to the laboratory room and starts seducing Mr. Zerrudo. Jodie became suspicious so she followed Gretch. Mr. Zerrudo becomes a Hyde-like monster and kills Gretch. Jodie gest help to Dean Bautista (Nida Blanca), but she did not listen to her. Mr. Zerrudo came and told Jodie that she needs to go to school in the night to take an exam. That night, Jodie went to school, but Mr. Zerrudo became a monster and attacks her. Mabu and Dean Bautista came but Mr. Zerrudo notices them and attacks Dean Bautista. Jodie and Mabu escaped and got help from the guards. Mabu got harmed when Mr. Zerrudo attacked him.
Jodie and Mabu hid in a room and Mabu started creating something. Mr. Zerrudo breaks the door and starts attacking Jodie. But then Mabu shoots him with the invention he was making earlier. As Jodie and Mabu began celebrating, Mr. Zerrudo pulls Jodie's foot. Mabu successfully kills him.
"ANG KAPITBAHAY"
Edit
One by one the children who are playing at a neighborhood park are abducted by a Witawit, a monstrous looking creature who lives in the park's trees. Nikkie and Yaya Tising try to get to the bottom of the mystery and rescue the abducted children.
ANG MADRE"
Edit
The colorful ladies who live in a crowded slum are all convinced that a Manananggal is responsible for a series of horrific murders. They suspect that their new neighbor Aling Iya is the bloodthirsty creature but Teks suspects that the barangay's assigned nun is the creature, which later revealed to be the real Manananggal.
Cast And Credits
Edit
"ANG GURO"
Edit
"Kapitbahay"
Edit
Cast:

Aiza Seguerra as Nikkie
Janice de Belen as Yaya Tasing
Al Tantay as Rod Mallari
Malou De Guzman as Mrs. Mallari
Vangie Labalan as Yaya Gi
Philip Gamboa as Captain Salvi
Romy Romulo as Lieutenant Damaso 
Ram Mojica as  Andrew
Rene Hinojales as Witawit
Rea Xeniana as Sheila 
Lady Lee as Bambi

Directors: Lore Reyes & Peque Gallaga
Writers: Peque Gallaga
Cast:
Directors: Lore Reyes & Peque Gallaga
Writer: Peque Gallaga
In "Ang Madre", The mananggal was clearly seen as dummy during the mananggal flies towards Teks.
In "Ang Guro", Gretch was eaten by Mr. Zerrudo. The mistake here is The wig of the dummy (Gretch) fells off.
At the end credits, the song was suddenly cut.
This is the 2nd film to be included a manananggal.
This is the 1st film to be included a child wonder.
Community content is available under
CC-BY-SA
unless otherwise noted.